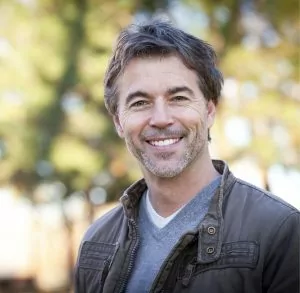 If you have lost one or more of your natural teeth, dental implants from Aspen Dental of Cache Valley are the next best thing to getting back real ones.
That's because dental implants look and feel like natural teeth. The only one who knows it's a replacement tooth is you, and they are so lifelike, even you may forget.
First, though, a clarification: strictly speaking, a dental implant is the titanium post that is inserted into your jaw. Within a few months it actually fuses with the bone. Once that happens, it is a solid support for the replacement tooth.
The replacement is actually in two parts. A piece called an abutment attaches to the implant. Think of it as a support piece. The artificial tooth sits on top of the abutment.
Other great features of dental implants:
Long lasting. With proper care, implants last as long as any other dental restoration. We'll have detail instructions on caring for yours.
High success rate. The human body rarely rejects an implant; the success rate is greater than ninety percent. This great track record improves as the technology improves.
Improved facial structure. An unfortunate side effect of losing a tooth is bone recession, which in turn leads to a sagging appearance in the face. Implants prevent bone recession.
At Aspen Dental of Cache Valley we have placed a lot of dental implants. Patients from North Richmond, East Mountains, and South Highway 89 come to us for implants and other restorative dentistry procedures. Call us to schedule an appointment today!
Contact Aspen Dental of Cache Valley:
Location (Tap to open in Google Maps):